Ciara kicked off her "Jackie" tour in Chicago last night and she gave fans a sight to see. Video of the singer hit the internet after she gave a fan a HOT lap dance on stage. Check out the video below and see the "well wishes" tweet her new NFL boo sent her.
OKAY CICI! When it comes to the stage, a hot single, and her videos, Ciara NEVER disappoints. However, the only reason I didn't go to this show is because I went to see her at the House of Blues last year and she BARELY moved on stage... I was so disappointed, until I learned later that she was pregnant. In other news... her NFL boo, Russell Wilson, showed her some love via Twitter. Check it out below.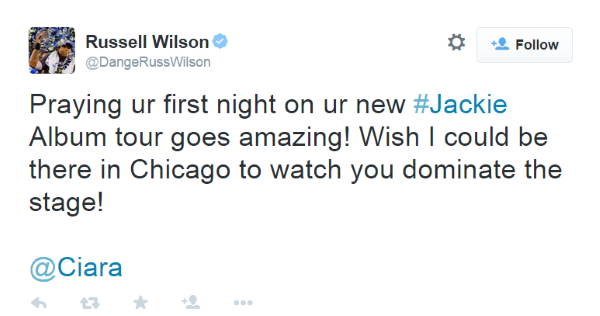 She replied....

Awww...... We're sure that her ex Future is still somewhere, "wishing he could care". Lol. His words, not mine.