So Lil Wayne has officially #BrokeTheInternet with his twitter announcement, but you will be surprised to know who was the first celebrity to respond.
I shared in an earlier post, the tweets Lil Wayne sent out declaring that he no longer wants to be a part of Cash Money. Well surprisingly, Pusha T was the first rapper to extend a helping hand. Pusha took to his twitter account to offer Weezy some advice. See his tweets below.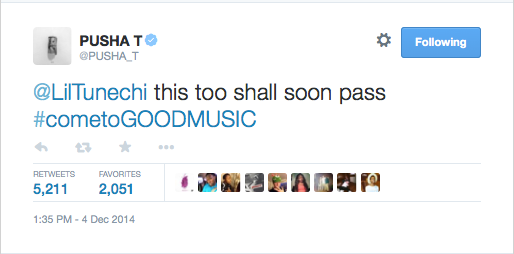 WOOP! This is hilarious because it's no secret that Pusha T and YMCMB have exchanged shady rap lines in the past. Oh and lets not forget Lil Wayne's epic tweet to Pusha....
Fuk pusha t and anybody that love em
— Lil Wayne WEEZY F (@LilTunechi) May 24, 2012
LOL... so it would be hilarious to see these two become label mates. However, it may actually happen. I predict that if things don't get better between Wayne and Cash Money, Jay-Z will step in and put up the money to buy Wayne out of his contract. I'm sure Birdman, Slim, and Cash Money will put up a BIG fight... but Jay can pay the judge to free Wayne and then he and Wayne can drop a joint album and go on a joint tour!? Genius right!? The only valuable artist on YMCMB are Drake and Nicki and after their contracts are up.. they can end ties with Birdman and Cash Money too. LOL. I would love to see the actual contracts on these artist. Birdman has been known to sign people for life so this won't be an easy battle for Wayne.
Oh and to support my theory, Lil Wayne gave an interview to NYLON magazine and when asked to name a few other artist on his level he chose Kanye West, and Beyonce. Hmmmmm.... sounds like a RocNation party to me.