This whole family has been showing their ass since the beloved musical legend Whitney Houston passed away. SMH... and it continues.
Since Whitney died, her family has been a mess. Here's a quick summary and then i'll get to the latest.
1) Months after Whitney's death, her sister in law and brother launched a reality show for financial gain, which, in my opinion, exploited the family and showcased Bobbi Kristina's under age drinking and drug abuse.
2) After the reality show, Whitney's Mother fell out with Bobbi Kristina (her granddaughter) and then wrote a book about her relationship with Whitney for MORE financial gain.
3) Then Whitney's Mother and Brother had an "in depth" interview with Oprah, where the brother admitted he introduced Whitney to drugs.
4) Bobbi Kristina got kicked out of her ATL apartment for constant complaints from neighbors regarding her LOUD partying.
5) Bobbi Kristina (20 at the time) got married to her "god-brother" Nick Gordon without telling her father and without approval of her family.
Now here is the latest "Houston Drama"... Whitney's nephew Gary Houston, beat up Bobbi Kristina's husband Nick Gordon (pictured above) at a family function. This story is just too funny!
So Nick (BK's Husband) went to a sweet 16 birthday party for Whitney's niece. Well... after the party ended, Whitney's nephew (Gary) put his "paws" on Nick and apparently Nick didn't get one lick in. CHILE.... They say Nephew Gary beat Nick DOWN, doing wrestling moves and all. The strange thing is, this all happen back in December but Nick just NOW decided to tweet about the "ass whopping". Maybe he's just now recovering.. lol. Check out the tweets below.
Here is what Nick (Bobbi K's Husband) sent out:

Here is Gary's response: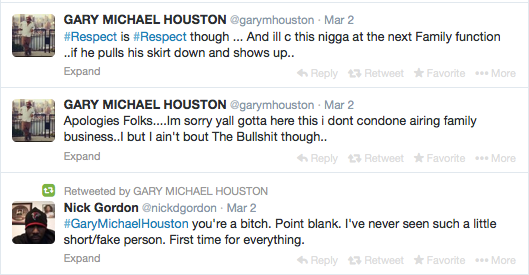 But wait... there's more...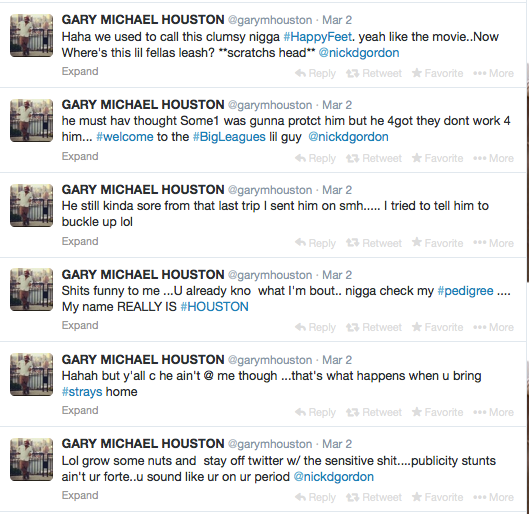 SMH!! The sad part about it all, is that there is no one in the family, (that we know of) that is LEVEL HEADED enough to intervene! Stay tuned as the story develops... We'll be sure to keep you posted when Nick and Bobby Brown cross paths. Lol.